Jamaica's housing market remains buoyant, despite a struggling economy caused by the COVID-19 pandemic. "Investments in the sector have been resilient and reliable for many owners, as properties continue to hold their value and have even increased in worth, despite the climate," said Petal James, Chief of Branches at JN Bank. "And, while some leveling off has been predicted, prices are not expected to decline."
The government-owned company, the National Housing Trust (NHT), which leads the mortgage market with almost 50% market share, recently introduced special relief measures to continue to stimulate the housing market in the wake of the global pandemic. These include:
"These measures are to safeguard persons from losing their homes while improving their disposable income," said Prime Minister Andrew Holness. "Effective immediately, mortgagors who are laid off can apply for a moratorium on all loan payments of three months in the first instance," Holness added.
Foreign interest in Jamaica's housing market has risen in recent years. Vacation homes located in the Montego Bay area, Ocho Rios, and Negril are attracting foreign homebuyers. Interest in Port Antonio is also slowly rising after an airport expansion in the area, according to Nicola Delapenha of Coldwell Banker Jamaica.
Vacation homes are priced from US$ 800,000 to US$10 million, according to Seventh Heaven Properties managing director Walter Zephirin. Foreign investors dominate this high-end market, while young Jamaican professionals who are first-time homebuyers fuel demand for mid-income bracket properties.
Demand for homes costing J$25 million (US$ 174,800) and below have grown strongly in recent years, while houses worth above J$40 million (US$279,700) had the least growth. Demand remains stable for townhouses, apartments, and for properties in gated communities.
Low mortgage rates and competition among mortgage providers have spurred home purchases, says Carlene Sinclair, President of the Realtors Association of Jamaica.
Jamaica's economy contracted by a record 8.6% in 2020, following y-o-y expansions of 0.9% in 2019, 1.9% in 2018, 0.7% in 2017, and 1.5% in 2016, after tourism took a severe hit due to the COVID-19 pandemic, according to the International Monetary Fund (IMF).
"Because, if you have a mortgage to pay, you might not have a choice but to keep it locked up with nobody to rent it, so you have to go long-term," James added.
Visitor arrivals falling sharply
Tourism is Jamaica's largest earner of foreign exchange and the second-largest employer in the country. Before the pandemic, tourism in Jamaica has been growing at a phenomenal rate. Stay-over visitor arrivals rose to a record 2.68 million people in 2019, up by 8.4% from the previous year, causing total tourism revenues to increase over 10% y-o-y to US$3.64 billion. About 170,000 workers are directly employed by the tourism sector.
However, in the first ten months of 2020, tourist arrivals in Jamaica plunged by about two-thirds to just over 1.1 million visitors compared to the same period last year.
"Jamaica's borders were closed for the months of April to May 2020 due to the COVID-19 pandemic and re-opened on June 15, 2020," said the Jamaica Tourist Board.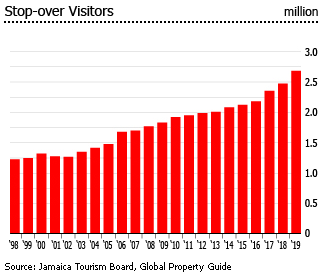 About 70% of tourists came from the U.S., 16% from Canada, and 7% from the U.K. – Jamaica's three major markets.
Before the country closed its borders to international travelers, the construction of the US$1 billion multi-resort development project, Sugarcane Bay Jamaica, broke ground in February 2020. The project, which is located in Llandovery, St. Ann, is expected to bring 4,700 additional rooms to the tourism sector.
Other recent tourism developments include:
AC Hotel by Marriott opened in June 2019 with 220 rooms in Kingston
Half Moon's 57 new rooms and suites in Montego Bay opened in December 2019
The RIU in Ocho Rios has reopened in September 2019 with its 790 refurbished rooms and an additional 45 family rooms
The new Oceans by H10 Hotel Group in Trelawny opened in November 2019, with its first 500 rooms
"At the end of 2019, tourism was projected to create 41,000 new jobs by 2022. We recognize now that the impact of COVID-19 will result in a revision of this estimate, but the broader point being made is that tourism remains one of the most critical catalysts for job creation in the Jamaican economy," said Tourism Minister Edmund Bartlett.
Mortgage rates falling
In September 2020, the average interest rate for mortgage loans in commercial banks in the country was 7.38%, down from 7.82% a year earlier and the lowest level in nine years, according to the Bank of Jamaica. For building societies, the average mortgage loan rate stood at 7.5% in September 2020, down from 7.93% in September 2019 and the lowest rate ever recorded.
For foreign currency-denominated mortgage loans, the average interest rate in building societies fell to 7.55% in July 2020, down from 7.98% in July 2019 and 8.46% two years ago.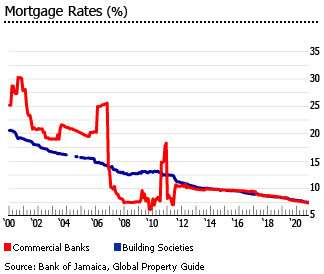 The maximum loan-to-value (LTV) ratio for foreigners is about 70% of the appraised value of the property, with a term period of 20 years.
However, the mortgage market is really small, at around 2.6% of GDP in the past three years. High unemployment and weak disposable income are to blame, says the central bank.
A government-owned company, the National Housing Trust (NHT), leads the mortgage market with almost 50% market share in 2019, based on the figures from the BOJ. Building societies have a market share of 41%, credit unions have 8%, and insurance companies have 2%.
The government recently introduced relief measures:
The NHT will reduce interest rates on all new loans by 1%, effective April 1, 2020
All existing NHT loans will be reduced by 0.5%, benefitting around 100,000 households
Interest rate discounts are offered to special groups, such as those mortgagors aged 55 and above, the disabled, as well as public sector workers
The NHT will provide greater benefits to contributors over 65 years.
In 2019, the NHT increased its loan ceiling from J$5.5 million (US$38,455) to J$6.5 million (US$45,447). In addition,
The NHT's interest rate was lowered by 100 basis points for all categories of borrowers.
NHT's minimum income band was raised from J$12,000 (US$84) per week to J$15,000 (US$105) per week at the same zero interest rate, allowing more persons to access the home grant.
Also, the NHT introduced intergenerational mortgages, with a loan period of 60 years. The aim is for the child or younger sibling to agree to carry the mortgage obligation when the older mortgagor retires or dies.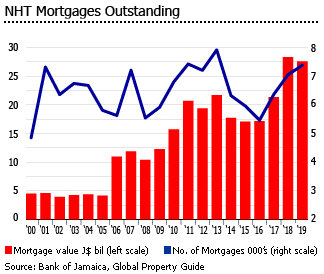 In October 2013, the Jamaican Cabinet approved an amendment to the Mortgage Insurance Act, raising the Mortgage Indemnity Insurance to 97% of the appraised value, up from 90%. The amendment means buyers are required to deposit only 10% of a property's value, including stamp duty and transfer tax, instead of the previous 15%.
NHT-initiated housing projects
The NHT is the main government body mandated to increase the available housing stock in Jamaica, as well as to provide financial assistance to homebuyers. Housing completions under the National Housing Trust (NHT) were 2,214 units in 2018 and 1,953 units in 2019 – up from an annual average of 1,400 units in 2013 to 2017.
US$40 billion has been allocated to construct over 8,000 housing units nationwide in FY2019/20 – the largest ever in the agency's 43-year history. In the FY2020-21 budget, an additional $13.4 billion has been allocated to NHT to facilitate the completion of some 20,000 houses and residential lots between April 1, 2020, and March 31, 2023.
"Next year (FY2021-22), the NHT´s housing expenditure is programmed to be 2.6 times more than what the NHT spent on housing in 2016-2017," said Jamaican Senator Aubyn Hill.
"With that volume of expenditure, the Government will remain focused… bringing more housing solutions that Jamaicans can afford to the market," Hill noted.
NHT PROJECTS UNDER CONSTRUCTION

Project Name
Location
No. of Units
Date of Completion
Colbeck Castle
St. Catherine
1,323
2021
Colbeck Castles 3&4
St. Catherine
4,401
2021
Friendship Phase 1
St. Elizabeth
873
Silver Sun Estate
St. Catherine
1,200
2023
The Estuary, Phase 1
St. James
1,500
2020
Vineyard Town
St. Andrew
14
2020
Brompton Manor
St. Elizabeth
54
2020
Hummingbird Meadows (Sevens 1)
Clarendon
846
2020
Industry Manor (formerly Industry Cove)
Hanover
63
2020
Linvale Housing Development
St. Ann
52
2021
Monymusk 2
Clarendon
175
2021
Monymusk Glades (formerly Jacksonville)
Clarendon
35
2021
Ruthven Housing Development (Phase 1)
St. Andrew
372
2021
Savannah Park
Westmoreland
1,408
2021
Source: National Housing Trust
Pandemic impairs Jamaica's already fragile economy
The Jamaican economy has performed very poorly for a long time, and the country is still on International Monetary Fund (IMF) life support because of its high debt levels. The economy grew a minuscule 0.9% in 2019, following annual expansions of 1.9% in 2018, 0.7% in 2017, 1.5% in 2016, 0.9% in 2015 and o.6% in 2014, according to the International Monetary Fund (IMF).
Longer-term, the numbers are even worse. Jamaica grew by only 1.3% annually from 1998 to 2007.
There was a GDP contraction by 0.8% in 2008, when it was the only Caribbean country aside from the Bahamas to experience recession. GDP fell by 3.4% in 2009, followed by a 1.4% decline in 2010. After weak growth of 1.4% in 2011, the economy slipped again into recession in 2012, contracting by around 0.5%.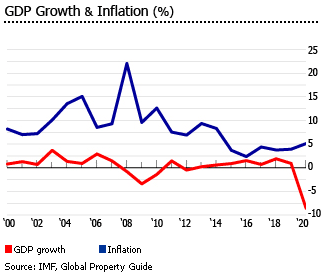 The economy is estimated to have contracted by a record 8.6% in 2020 mainly due to the economic repercussions brought by the COVID-19 pandemic.
"COVID-19 continues to impact and disrupt trading partners, we look at the US, our source market for tourism and we understand that there is a significant fear and panic in those markets so it would impact our visitor arrivals," said Economic Programme Oversight Committee (EPOC) co-chairman Keith Duncan. "So, the impact on our economy is highly uncertain."
Last year, Prime Minister Andrew Holness unveiled an economic aid worth $25 billion, the largest fiscal stimulus in Jamaica's history, to cushion the impact of the pandemic. In May 2020, the IMF approved Jamaica's request for emergency financial assistance amounting to US$520 million under the Rapid Financing Instrument (RFI) to help meet the urgent balance of payments needs of the country arising from the health crisis.
As a result, Jamaica is estimated to record a budget deficit of more than 3% of GDP in 2020, in sharp contrast to surpluses of 1.4% of GDP in 2019 and 1.3% in 2018. Government gross debt increased to more than 101% of GDP in 2020, up from 93.9% in 2019, but still far below the annual average of 136.5% from 2008 to 2015.
The country's inflation rate stood at 4.8% in November 2020, up from an annual average of 3.6% in 2015-19 but still far below the average of 11.2% in 2004-14. Overall, inflation is projected at 5% last year, still within the central bank's target range of 4% to 6%.
Nationwide unemployment increased to 12.6% in Q3 2020, from just 7.8% a year earlier, according to STATIN.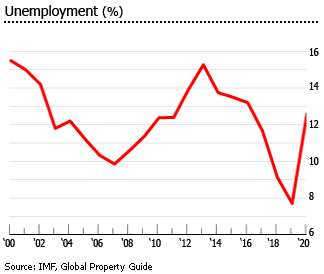 Despite this, both Standard and Poor's and Fitch Ratings recently affirmed their credit ratings for Jamaica at B+ but changed their outlook from stable to negative for S&P and from positive to stable for Fitch.
The Jamaican Logistics Hub
Despite the pandemic, the government continues to make progress on its plans to create an advanced and integrated infrastructure network covering air, sea, road, rail, and special economic zones to realize its vision to become the fourth node in the world's logistics chain alongside Dubai, Rotterdam, and Singapore. In April 2014, Jamaica agreed with China on this US$15 billion project.
Currently, Jamaica is already considered a major center for transshipments and logistics. Its logistics industry is worth US$728 million – the biggest in the Caribbean.
If this really works out, this alone could solve most of Jamaica's economic problems. The 20-year master development plan was proposed by the Jamaica Chamber of Commerce to the government and World Bank (WB) in January 2013. The WB agreed and granted funding. The Jamaica Observer reported that the plan includes developments in:
Kingston Harbour shoreline - Port Royal to Kingston to Hellshire
Transportation systems for Kingston and Montego Bay
Caymanas logistics hubs
Montego Bay and Falmouth
In May 2018, the Cabinet finally approved the master plan and implementation strategy for the Jamaica Logistics Hub Initiative (JLHI). The master plan recommends land use and infrastructure improvements, including the creation of zones and the development and upgrade of ports.
The project entails about 3,900 hectares of development across the country costing US$28 billion and has the potential to create around 87,000 direct jobs.
The Special Economic Zone (SEZ) law, already enacted, will "provide the legislative framework to attract manufacturing companies and technology firms to engage in value-added activities on goods trans-shipped through Jamaica". A Free Zone Council has already been created to watch over the enactment of the new rules.
Crime and violence
Jamaica has one of the highest per capita murder rates in the world, mainly due to gang-related violence. Homicide rate increased to almost 49 per 100,000 in 2019, from 47 per 100,000 in 2018. It was three times higher than the average for Latin America and the Caribbean, according to the OSAC's Crime and Safety Report.
Petty theft and pickpocketing remain common in tourist areas, particularly in the downtown "Hip Strip" of bars, clubs, and vendors in Montego Bay. While most criminal activity is "Jamaican on Jamaican" violence involving gangs and organized criminal elements, foreigners should remain cautious.
Kingston's high-crime areas include Mountain View, Trench Town, Tivoli Gardens, Standpipe, Cassava Piece, Grants Pen, and Arnett Gardens. In Montego Bay, visitors must avoid Flankers, Canterbury, Norwood, Rose Heights, Clavers Street, and Hart Street, according to Overseas Security Advisory Council (OSAC).
Recently, the IMF cited crime as the number one impediment to economic growth.
CRIMES IN JAMAICA, 2019

Total
Annual change
Murders
1,326
3.4%
Shootings
1,246
7.8%
Aggravated Assaults
361
-4.7%
Rapes
484
-3.8%
Robberies
1,189
9.3%
Break-ins
1,210
3.1%
Source: OSAC, Bureau of Diplomatic Security, U.S. Department of State